What are the personal dreams you put on hold, defend the tardiness, excuse the incompletion, perpetually move down on your list, figure 'no' would be the best course of action because the time is just not right?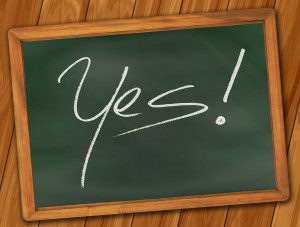 How about saying YES, now?
You are a person on a mission – an entrepreneur with a method to the madness – a force to be reckoned with. You just have a heart and a gut intuition that 'something's got to change' or maybe just shift. You realize it is not about everything, it is about preserving the best and enhancing the rest. It's not about big, it is about one small step…..
What is the change, the shift, you want to see and experience in your world, our world?
Say YES now. Consider the following:
So, as we head into the end of…today…say YES to your dream. I welcome presenting a keynote or passioning with you one-on-one to take your vision from do it now, to do it again!
It's all about … your … YES to change or shift … NOW! One small step!
Lynn Price
Social Entrepreneur – ChangeMaker – Ripple Creator
Ashoka Fellow; Founder and President Emeritus, Camp To Belong